People read every day, whether it is reading a news feed, emails, chats etc. But there is something different when you read a book. When you read a book, you'll be absorbed into a strange land with a vivid imagination and different perspectives, you swim into someone's ideas and story and buried with your interpretation upon what you've just read. To get such experience, all you need to do is only grab a book and start to read. However, it never as easy as it sounds. Consider the distraction that we encounter every time we start to cram into a story let say notifications, emails, and such. This, sometimes is what hampers us to fond of reading.
Blissfully, the advanced of the digital era make it easier for us to chunks a book. It provides us brand-new reading experiences that not only stick with traditional reading. If you are busy millennials trying to read more, wanting to stick with a thousands-page book, or you just need an easy and quick getaway reading suggestion here's some hacks for you.
1. Have no time to read? Listen
Audiobooks is not an odd thing and we can listen everywhere. Whether when we are waiting for KRL, or doing our laundry, or when we are on the line and forget to bring the book, we can start to read. I suggest you get free audiobooks from Open Culture.  They provide free classic audiobook that divided per chapter. Thus, you can download three or four chapter at first then continue when you feel you like it.
2. Waiting is no longer boresome if you start reading

If you cannot have a specific time to passionately reading, then start reading every time you are waiting is the best hacks. It is fine tho to read only in 10 minutes when you are waiting on the lines to your favorite box offices, waiting for friends to come over, waiting for your lecturer to come to the class. Well, you can bite several pages in 10 minutes. Instead of checking your news feed or endless and scattered email, you can start to read. Those 10 minutes add up in a day may bring you to the halfway of the books. You won't see it coming.
3. Reading e-book? Why not!

So there are some people who dislike reading ebook because it is kinda hurt their eyes. However, for the simple man who sometimes forgets to bring a physical book, or you just don't want to add up height to your backpack, an ebook is a life saver. If you are using Android devices, you can save plenty of ebooks on your device and download ebook reader such as eReader Prestigio or Moon Reader to have a better reading experience. You can control the pages overview, adjust the brightness, it is cool and unheavy. Yet you must be prepared if your battery is running out, but it is worth to try.
4. So you want to read but don't know what to read?
Once you get motivated to read you'll see endless suggestions of books that you may get overwhelmed to choose one. Let TBRjar choose the book you should read. You can create one of TBR jar by seeing video above or you can see my post about 10 Books You Should Read That Will Makes You Love Reading
5. Create your Reading Nook
Reading Nook is usually used for kids, but who says we millennials -coming to adultery life- cannot have a comfy and beautiful reading nook? You don't need to follow all of those decorations of reading nook as you see on Pinterest. You can just arrange it somewhere in your room by putting a pillow, a comfy blanket, a little table for coffee and snacks then you're good to go. It will be great if you can make it near a window because it will give you the better experience of reading, trust me.
6. Don't have money to buy books? It is not a reason to not read

In the digital era, you can find free books everywhere scattered on the internet. Let Free Classic Ebook or iBookPile where you can download ebooks with the readable format. Or you can following giveaway on Goodreads to get some free books. You don't have to spend any of your penny.
7. Read the summary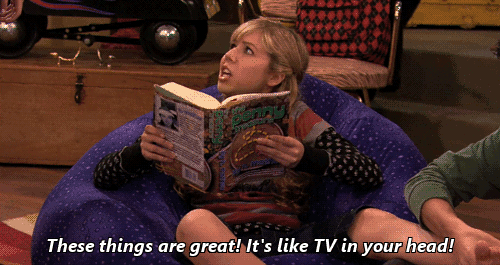 I know it is nothing like reading the whole pages of the books. However, it will help you to grasp the idea of what you will read, once you read a summary of the books it could result in three way: First, you like the story then you're motivated to read the whole book because it is perfectly amazing and interests you. Second, you may like it but you don't necessarily want to read the whole books, so may run into your next TBR list and saving your time. Third, you don't like the story and you prevent yourself for the uneasiness of reading something that bores you. It could prevent you from having a bad experience in reading so you can focus on reading the book that you really want.
Those are seven reading hacks that you can choose to make yourself a better reader. I hope you guys find it useful. See you!